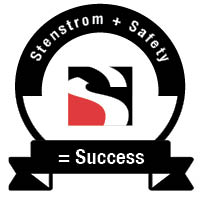 The Stenstrom Safety Program is driven by one core goal: to send employees home each and every day in the same health or better. This strong commitment is demonstrated by our safety program managed by the Stenstrom safety committee. Members make regular site visits and provide safety briefings and trainings for all trades and employees. Stenstrom's written safety program addresses OSHA requirements, training and inspection. Everyone working on a Stenstrom job is responsible and accountable for their own safety and the safety of others.
Our crews are encouraged to work safely and are provided with any equipment necessary to achieve that goal. For generations, Stenstrom has taken great pride in ensuring the safety and health of all personnel on its projects. As a result, the number of accidents on our projects is considerably lower than the industry average.
The effectiveness of safety programs can be measured against the Experience Modification Rate (EMR), which is a rating calculated by the National Council of Compensation Insurance.